Everyday Blessings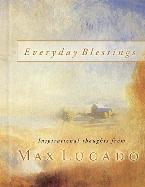 Overview
If a single contemporary author can be said to capture the heart, soul, and imagination of our generation, it is unquestionably Max Lucado. His disarmingly conversational style, vivid imagery, and insightful comments on faith have resulted in sales of more than 33 million books. With Everyday Blessings, he brings 365 reflections on individual scriptures into J. Countryman's Minute Meditation series. This fifth installment of this inviting collection of little books features full-color design throughout and Lucado's signature affirmations from cover to cover.
Product Details
Title: Everyday Blessings
Author: Max Lucado
Publisher: Thomas Nelson
Publication Date: 2004
Reviews
What other people are saying about Everyday Blessings.