Four Essays on the Sabbath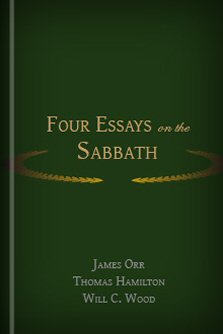 Overview
The four essays that comprise this volume, while devoted in common to the proof of the divine origin and the universal and permanent obligation of the doctrine of the Sabbath, possess the advantage of edifying diversity in the manner in which the great subject is handled by the respective authors. This has arisen, not only from the difference in the individuality but in the nationality of the writers. One is an Irishman, a second an American, and while the two others are Scotsmen, the one is a clergyman and the other a layman. Each essayist has, in this way, drawn largely upon his own experience. Essays include:
Our Rest Day: Its Origin, History, and Claims, by Thomas Hamilton
Heaven Once a Week: An Essay on the Sabbath, by Will C. Wood
The Sabbath: Scripturally and Practically Considered, by James Orr
Some Aspects of the Sabbath Question, by a "Member of the College of Justice, Edinburgh"
Product Details
Title: Four Essays on the Sabbath
Authors: James Orr, Thomas Hamilton, Will C. Wood, and a "Member of the College of Justice, Edinburgh"
Publisher: James Gemmel
Publication Date: 1886
Pages: 553
About James Orr
James Orr (1844–1913) was minister of the East Bank United Presbyterian Church in Hawick, Scotland, from 1874–1891, and professor of church history in the Theological College of the United Presbyterian Church of Scotland from 1874–1901. From 1901, he was professor of apologetics and theology at Glasgow College of the United Free Church. He was among the chief promoters for the union between the Free and United Presbyterian Churches in Scotland. He lectured at seminaries all over the world and was a prolific writer and editor.
Orr served as the editor for the International Standard Bible Encyclopedia, 1915 Edition, contributed four volumes to the The Pulpit Commentary, and is featured in The Fundamentals (4 vols.).
Reviews
What other people are saying about Four Essays on the Sabbath.