The Authenticity of John's Gospel: Deduced from Internal Evidence, with Answers to Objections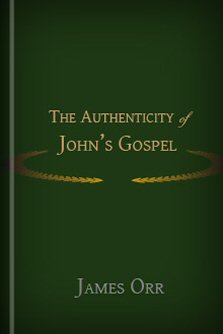 Overview
While many critics of John's Gospel focus on the discrepancies between it and the other three Gospels, James Orr decided to make a study of the "undesigned" coincidences. "Statements in the Synoptical accounts that, taken by themselves, had seemed unlikely or even contradictory, had, by the testimony of the Fourth witness, been either reconciled or rendered credible." Orr dives his study into two parts: in the first, he examines these coincidences and in the second he answers common objections to the Gospel's authenticity.
Product Details
Title: The Authenticity of John's Gospel
Author: James Orr
Publisher: Williams and Norgate
Publication Date: 1870
Pages: 121
About James Orr
James Orr (1844–1913) was minister of the East Bank United Presbyterian Church in Hawick, Scotland, from 1874–1891, and professor of church history in the Theological College of the United Presbyterian Church of Scotland from 1874–1901. From 1901, he was professor of apologetics and theology at Glasgow College of the United Free Church. He was among the chief promoters for the union between the Free and United Presbyterian Churches in Scotland. He lectured at seminaries all over the world and was a prolific writer and editor.
Orr served as the editor for the International Standard Bible Encyclopedia, 1915 Edition, contributed four volumes to the The Pulpit Commentary, and is featured in The Fundamentals (4 vols.).
Reviews
What other people are saying about The Authenticity of John's Gospel: Deduced from Internal Evidence, with Answers to Objections.