The Bible under Trial: Apologetic Papers in View of Present-Day Assaults on Holy Scripture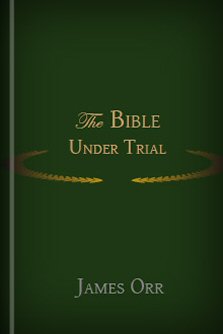 Overview
The essays composing The Bible under Trial were originally published serially in The Life of Faith as a popular apologetic series in defense of the Bible. The essays are written from the standpoint of faith in the Bible as the inspired and authoritative record for us of God's revealed will. The following essays are included:
The Present Day Trial of the Bible
An Instructive Object Lesson
"Presuppositions" in Old Testament Criticism
"Settled Results" in Criticism
Israel's God and Worship
Archeology as Searchlight
The Citadel—Christ
The Bulwark of the Gospels
Oppositions of Science
The Bible and Ethics: "God and My Neighbor"
Discrepancies and Difficulties
The Bible the Hope of the World
Praise for the Print Edition
Professor James Orr of Glasgow, who is one of the profoundest and best read of biblical scholars, and perhaps the ablest defender of conservative views in biblical criticism is the author of a volume entitled The Bible under Trial which makes a strong appeal to clergy and laity alike by its ripe scholarship and forceful and simple style.
—The Living Age
Product Details
Title: The Bible under Trial
Author: James Orr
Publisher: Marshall Brothers
Publication Date: 1907
Pages: 323
About James Orr
James Orr (1844–1913) was minister of the East Bank United Presbyterian Church in Hawick, Scotland, from 1874–1891, and professor of church history in the Theological College of the United Presbyterian Church of Scotland from 1874–1901. From 1901, he was professor of apologetics and theology at Glasgow College of the United Free Church. He was among the chief promoters for the union between the Free and United Presbyterian Churches in Scotland. He lectured at seminaries all over the world and was a prolific writer and editor.
Orr served as the editor for the International Standard Bible Encyclopedia, 1915 Edition, contributed four volumes to the The Pulpit Commentary, and is featured in The Fundamentals (4 vols.).
Reviews
What other people are saying about The Bible under Trial: Apologetic Papers in View of Present-Day Assaults on Holy Scripture.