The Christian View of God and the World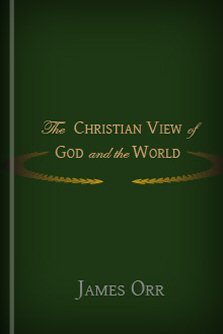 Charles Scribner's Sons
, 1907
Overview
The Christian View of God and the World contains nine lectures centering on Christ's incarnation by James Orr. First delivered in 1891, Orr revised the lectures and added substantial notes. The lectures are as follows:
The Christian View of the World in General
The Christian View and Its Alternatives
The Theistic Postulate of the Christian View
The Postulate of the Christian View of the World in Regard to Nature and Man
The Postulate of the Christian View in Regard to the Sin and Disorder of the World
The Central Assertion of the Christian View: The Incarnation of God in Christ
Higher Concept of God Involved in the Incarnation—The Incarnation and the Plan of the World
The Incarnation and Redemption from Sin
The Incarnation and Human Destiny
Praise for the Print Edition
The position of Professor Orr is virtually that which was maintained by the great leaders of religious thought in the early Christian church, when the intellectual giants of Alexandria and Hippo and Milan mastered the Greek philosophy and prized it and used it.
—Homiletic Review
Product Details
Title: The Christian View of God and the World
Author: James Orr
Publisher: Charles Scribner's Sons
Publication Date: 1907
Pages: 480
About James Orr
James Orr (1844–1913) was minister of the East Bank United Presbyterian Church in Hawick, Scotland, from 1874–1891, and professor of church history in the Theological College of the United Presbyterian Church of Scotland from 1874–1901. From 1901, he was professor of apologetics and theology at Glasgow College of the United Free Church. He was among the chief promoters for the union between the Free and United Presbyterian Churches in Scotland. He lectured at seminaries all over the world and was a prolific writer and editor.
Orr served as the editor for the International Standard Bible Encyclopedia, 1915 Edition, contributed four volumes to the The Pulpit Commentary, and is featured in The Fundamentals (4 vols.).
Reviews
What other people are saying about The Christian View of God and the World.