God's Image in Man and Its Defacement in the Light of Modern Denials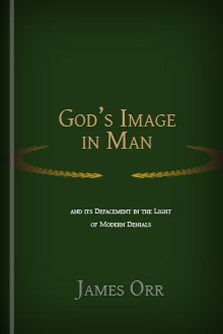 Hodder and Stoughton
, 1905
Overview
God's Image in Man and Its Defacement in Light of Modern Denials contains six lectures originally delivered in 1903 at Princeton Theological Seminary. In these essays, Orr lays out the biblical doctrines of God, man, and sin, and contrasts them against the "evolutionary" view of them. "I confess that the newer tendency to wholesale surrender of vital aspects of Christian doctrine at the shrine of what is regarded as 'the modern view of the world' appears to me graver than it does to many." The lectures are as follows:
The Conflict of Biblical and Modern Views of Man and Sin—The Issues Stated
Scripture and Science on the Nature of Man—The Image of God in Man
Scripture and Science on the Origin of Man—The Image as a Creation
Scripture and Science on the Primitive Condition of Man—The Image as Actual Moral Resemblance
Scripture and Science on the Origin and Nature of Sin—The Defacement of God's Image
The Biblical Doctrine of Man and Sin in Its Relation to the Christian Redemption—Restoration and Perfecting of the Divine Image
Praise for the Print Edition
Dr. Orr has the courage to recognize and assert the irreconcilableness of the two views and the impossibility of a compromise between them; and to undertake the task of showing that the Christian view in the forum of science itself is the only tenable one. This task he accomplishes with distinguished success: and this is the significance of the volume. It will come as a boon to many who are oppressed by the persistent pressure upon them of the modern point of view. It cannot help producing in the mind of its readers a notable clearing of the air.
Product Details
Title: God's Image in Man and Its Defacement in Light of Modern Denials
Author: James Orr
Publisher: Hodder and Stoughton
Publication Date: 1905
Pages: 325
About James Orr
James Orr (1844–1913) was minister of the East Bank United Presbyterian Church in Hawick, Scotland, from 1874–1891, and professor of church history in the Theological College of the United Presbyterian Church of Scotland from 1874–1901. From 1901, he was professor of apologetics and theology at Glasgow College of the United Free Church. He was among the chief promoters for the union between the Free and United Presbyterian Churches in Scotland. He lectured at seminaries all over the world and was a prolific writer and editor.
Orr served as the editor for the International Standard Bible Encyclopedia, 1915 Edition, contributed four volumes to the The Pulpit Commentary, and is featured in The Fundamentals (4 vols.).
Reviews
What other people are saying about God's Image in Man and Its Defacement in the Light of Modern Denials.