New Testament Apocryphal Writings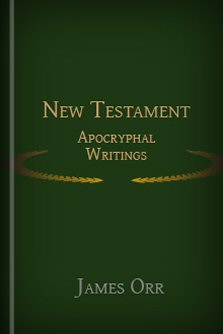 Overview
In New Testament Apocryphal Writings, James Orr provides insightful introductions to 10 pieces of New Testament apocryphal writings, and then provides their English translations. Orr examines this spurious body of literature, noting their literary, artistic, historical, and doctrinal influences. Following the translations, Orr has provided helpful notes for each piece. The Apocrypha covered includes:
Cycle on the Parents of Jesus and on the Nativity
The Boyhood of Jesus
Cycle of Pilate and Nicodemus
The Protevangelium of James
The Gospel of Thomas
The Gospel of Pseudo-Matthew
The Gospel of Nicodemus
The Gospel of Peter
Acts of Paul and Thecla
The Falling Asleep of Mary
Praise for the Print Edition
Professor Orr's introduction frames the documents in their historic setting, and shows how they have influence Catholic tradition and sacred art. The little volume will be very welcome to many who have found these Apocryphal Gospels somewhat inaccessible. It will repay careful study.
—London Quarterly Review
Product Details
Title: New Testament Apocryphal Writings
Author: James Orr
Publisher: J. M. Dent & Co.
Publication Date: 1903
Pages: 137
About James Orr
James Orr (1844–1913) was minister of the East Bank United Presbyterian Church in Hawick, Scotland, from 1874–1891, and professor of church history in the Theological College of the United Presbyterian Church of Scotland from 1874–1901. From 1901, he was professor of apologetics and theology at Glasgow College of the United Free Church. He was among the chief promoters for the union between the Free and United Presbyterian Churches in Scotland. He lectured at seminaries all over the world and was a prolific writer and editor.
Orr served as the editor for the International Standard Bible Encyclopedia, 1915 Edition, contributed four volumes to the The Pulpit Commentary, and is featured in The Fundamentals (4 vols.).
Reviews
What other people are saying about New Testament Apocryphal Writings.