Ritschlianism: Expository and Critical Essays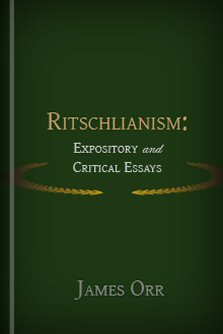 Hodder and Stoughton
, 1903
Overview
Ritschlianism: Expository and Critical Essays begins with three essays outlining the basic tenets of Ritschlianism and its influence on current theological discussions. Orr then examines works by leading theologians promoting Ritschlianism thought and theology: Garvie's Ritschlian Theology: Critical and Constructive, Swing's Theology of Albrecht Ritschl, Harnack's Das Wesen des Christenthums, Sabatier's Philosophy of Religion, and McGiffert's Apostolic Christianity. Thus, the German, French, and American representatives of the Ritschlian school are critiqued.
Praise for the Print Edition
Dr. Orr was one of the first in this country to write of the new theological movement starting from Ritschl, and the present volume contains some of his first papers on the subject. The best proof of the care and intelligence of these essays is that they still retain their value and freshness. English readers now have sufficient materials for forming a judgment on a remarkable movement of thought.
—London Quarterly Review
These essays can be heartily recommended not only to all students of the Ritschlian theology, but to the general reader who desires to know what Ritschlianism really is.
—Glasgow Herald
Product Details
Title: Ritschlianism: Expository and Critical Essays
Author: James Orr
Publisher: Hodder and Stoughton
Publication Date: 1903
Pages: 283
About James Orr
James Orr (1844–1913) was minister of the East Bank United Presbyterian Church in Hawick, Scotland, from 1874–1891, and professor of church history in the Theological College of the United Presbyterian Church of Scotland from 1874–1901. From 1901, he was professor of apologetics and theology at Glasgow College of the United Free Church. He was among the chief promoters for the union between the Free and United Presbyterian Churches in Scotland. He lectured at seminaries all over the world and was a prolific writer and editor.
Orr served as the editor for the International Standard Bible Encyclopedia, 1915 Edition, contributed four volumes to the The Pulpit Commentary, and is featured in The Fundamentals (4 vols.).
Reviews
What other people are saying about Ritschlianism: Expository and Critical Essays.