The Ritschlian Theology and the Evangelical Faith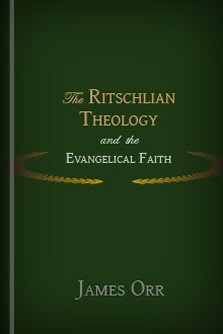 Hodder and Stoughton
, 1897
Overview
In The Ritschlian Theology and the Evangelical Faith, James Orr first traces the rise of the Ritschlian school and the mental development of its founder, Albrecht Ritschl. Orr then explores the relationship between Ritschlian theology and the religious systems of Kant and Lotze, and each of their theories of knowledge and religion are set forth and compared. Orr then compares the Ritschlian theology with orthodox evangelical theology, arguing in favor of the latter.
Praise for the Print Edition
It is impossible to praise too highly Dr. Orr's impartiality in stating the views of the various schools for which a Ritschlian filiation may be claimed, his keenness in the detection of inconsistency or weakness, his firm and courteous defense of the older faith, or the literary art with which, under the restraints of brevity, he makes difficult speculations intelligible. There is no book in English from which it is more easy or more pleasant to learn what Ritschlianism really is, in its excellencies and in its defects.
—London Quarterly Review
He recognizes the good features in Ritschl's system, and does not hesitate to commend them, while at the same time, he points out clearly the evident departures from the accepted evangelical faith and the advantages of that faith in precision of statement and directness of appeal.
—Auburn Seminary Review
Professor Orr has done his work well. His treatment of Ritschlian Theology is scholarly, self-contained, and lucid . . . .
—Church Times
It is the best English book we have on the subject. Nothing is left unnoticed that is necessary to a proper appreciation of this influential school of theology.
—Critical Review
Product Details
Title: The Ritschlian Theology and the Evangelical Faith
Author: James Orr
Publisher: Hodder and Stoughton
Publication Date: 1897
Pages: 276
About James Orr
James Orr (1844–1913) was minister of the East Bank United Presbyterian Church in Hawick, Scotland, from 1874–1891, and professor of church history in the Theological College of the United Presbyterian Church of Scotland from 1874–1901. From 1901, he was professor of apologetics and theology at Glasgow College of the United Free Church. He was among the chief promoters for the union between the Free and United Presbyterian Churches in Scotland. He lectured at seminaries all over the world and was a prolific writer and editor.
Orr served as the editor for the International Standard Bible Encyclopedia, 1915 Edition, contributed four volumes to the The Pulpit Commentary, and is featured in The Fundamentals (4 vols.).
Reviews
What other people are saying about The Ritschlian Theology and the Evangelical Faith.