Sidelights on Christian Doctrine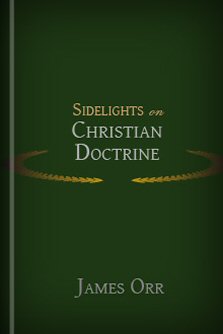 A. C. Armstrong and Son
, 1909
Overview
Sidelights on Christian Doctrine serves as an introductory handbook to Christian doctrine. It shows, what, in substance, theology is, to create an interest in its questions, and to remove some misconceptions as to its nature, necessity, and scope. It rests on the conviction that, however necessary it may be to state Christian doctrines constantly anew in relation to advancing knowledge, there is an essential content in the Christian system which does not change. One truth is related to another, and cannot be essentially altered without detriment to the whole system. There is a testimony to that truth in the living organism of Scripture—held here to be the self-attesting record of God's revelation of life and salvation to the world—and on that scriptural basis, not on the changing thoughts and speculations of men, a sound theology must be reared.
Contents
Nature and Place of Christian Doctrine: The Doctrine of God
Names and Attributes of God
The Trinity of God: The Divine Purpose
Creation and Providence
Man and Sin: Man's Need as a Sinner
Christ and Salvation: General View—The Redeemer
Christ and Salvation: The Atonement
The Spirit in Salvation: Union with Christ and Its Blessings
Eternity and Its Issues: Advent and Judgment
Praise for the Print Edition
If all the books on theology had been written with the simplicity of this one, the word 'theology' would never have become so formidable. When the greatest things in human life, for these are the things that theology deals with, are presented clearly and simply there is no reading so fascinating. These are the things that we think about, and these are the things that men talk about. Religion is the most interesting thing in the world and ought to be kept so.
—Record of Christian Work
Product Details
Title: Sidelights on Christian Doctrine
Author: James Orr
Publisher: A. C. Armstrong
Publication Date: 1909
Pages: 183
About James Orr
James Orr (1844–1913) was minister of the East Bank United Presbyterian Church in Hawick, Scotland, from 1874–1891, and professor of church history in the Theological College of the United Presbyterian Church of Scotland from 1874–1901. From 1901, he was professor of apologetics and theology at Glasgow College of the United Free Church. He was among the chief promoters for the union between the Free and United Presbyterian Churches in Scotland. He lectured at seminaries all over the world and was a prolific writer and editor.
Orr served as the editor for the International Standard Bible Encyclopedia, 1915 Edition, contributed four volumes to the The Pulpit Commentary, and is featured in The Fundamentals (4 vols.).
Reviews
What other people are saying about Sidelights on Christian Doctrine.