Luke: That You May Know the Truth (vol. 1)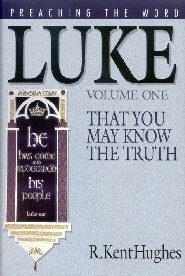 Overview
In this volume, R. Kent Hughes' covers the first eleven chapters of Luke with precision and refreshing originality. Along with volume 2, this may well be the only commentary you'll ever need to teach and preach the power, the celebration, and the glorious message of Luke's beloved Gospel.
Luke's carefully researched and "orderly account" of the life of Christ is one of the finest pieces of historical writing in all of ancient literature. Yet it also accomplishes its divinely appointed – and more personal – purpose: that people of every century "may know the truth".
Product Details
Title: Luke: That You May Know the Truth (vol. 1)
Author: R. Kent Hughes
Publisher: Crossway Books
Publication Date: 1998
Pages: 479
Reviews
What other people are saying about Luke: That You May Know the Truth (vol. 1).