Come and See: Ezekiel, Hebrews, and Revelation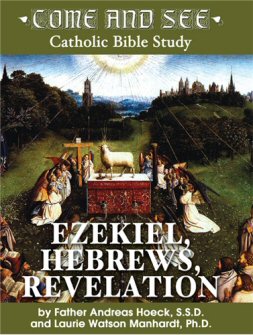 Overview
Father Andreas Hoeck and Laurie W. Manhardt unlock the mysteries of some of the most difficult and controversial books of the Bible—Ezekiel, Hebrews, and Revelation. Probe the prophet Ezekiel, the most visual of the prophets, and discover the significance of his numerous visions and symbolic style of writing, and how he influences the book of Revelation. The Apocalypse (Revelation) is filled with symbolism and code language derived from the Old Testament that was intended to mislead outsiders who might stumble on the book. Learn its true meaning by comparing it with Old Testament precedents, and be fascinated by what God really is saying to you in Revelation. And discover why the book of Hebrews offers a profound and unique image of Jesus found nowhere else in the New Testament.
The Logos edition brings you more. With references to the Bible and Catechism appearing on mouseover, you can easily read source material to engage further with the subject matter. All cross-references are tagged to other resources in your library, you can easily connect with citations to the saints, popes, and doctors of the church. Enrich your Bible study and broaden your knowledge of Scripture as you explore these commentaries like never before through Logos.
Key Features
Scriptural teaching applied to life situations
Rich teachings from the saints and church fathers
Engaging questions and discussion points for deeper Bible study
Contents
Call of the Prophet: Ezekiel 1–3
Warnings for Jerusalem: Ezekiel 4–11
Exile and Devastation: Ezekiel 12–19
Israel's Infidelity: Ezekiel 20–24
Prophecies against Nations: Ezekiel 25–32
Salvation for Israel: Ezekiel 33–39
The New Israel: Ezekiel 40–48
Higher than the Angels: Hebrews 1–2
God's Promise: Hebrews 3–5
Jesus the High Priest: Hebrews 6–7
Worship: Hebrews 8–10
Faith and Endurance: Hebrews 11–13
Letters to Churches: Revelation 1–3
Heavenly Worship: Revelation 4–5
Seals and Trumpets: Revelation 6–8
Bitter but Sweet: Revelation 9–11
The Woman: Revelation 12
Beast and Lamb: Revelation 13 –14
Companions of the Lamb: Revelation 15–16
Babylon has Fallen: Revelation 17–18
The Marriage of the Lamb: Revelation 19–20
New Heaven and Earth: Revelation 21–22
About the Authors
Laurie W. Manhardt holds a BA in psychology from the University of Detroit and a PhD in education from the University of Michigan. She led an interfaith Bible study for 10 years, which convinced her of the need for quality Catholic Bible study resources. The Come and See: Catholic Bible Study Series is the result.
Andreas Hoeck was born in 1964 in Cologne, Germany. He studied philosophy, theology, and exegesis in Bonn, Anapolis (Brazil), Rome, and Jerusalem. After his ordination to the priesthood in 1992, he earned his doctorate at the Pontifical Biblical Institute (Biblicum) in Rome in 2002. Father Hoeck speaks 14 languages, is currently teaching New Testament at the Saint John Vianney Theological Seminary in Denver, Colorado, and is the chairman of the Scripture Department.
Reviews
What other people are saying about Come and See: Ezekiel, Hebrews, and Revelation.