Come and See: Isaiah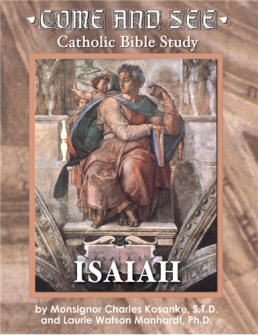 Overview
God's people have rebelled; they have become a sinful nation. But God calls his people back, through Isaiah, with a message of judgment, consolation, and hope. Isn't this how God calls all sinners? Move with the "greatest of the prophets" deeply into the mystery of God and the beauty of his truth.
Isaiah, the tenth book in the Come and See: Catholic Bible Study Series, covers the major Old Testament prophet Isaiah in a 22-week study.
The Logos edition brings you more. With references to the Bible and Catechism appearing on mouseover, you can easily read source material to engage further with the subject matter. All cross-references are tagged to other resources in your library, you can easily connect with citations to the saints, popes, and doctors of the church. Enrich your Bible study and broaden your knowledge of Scripture as you explore these commentaries like never before through Logos.
Key Features
Scriptural teaching applied to life situations
Rich teachings from the saints and church fathers
Engaging questions and discussion points for deeper Bible study
Contents
Judgment and Hope: Isaiah 1–5
Immanuel: Isaiah 6–8
Hope in God: Isaiah 9–12
Against the Nations: Isaiah 13–18
More Oracles: Isaiah 19–23
Apocalypse of Isaiah: Isaiah 24–27
The Lord Alone: Isaiah 28–30
Restoration: Isaiah 31–33
Justice and Mercy: Isaiah 34–35
Save us, O Lord: Isaiah 36–37
Hezekiah: Isaiah 38–39
Consolation: Isaiah 40–41
Servant Songs: Isaiah 42
Fear Not: Isaiah 43
Redeemer of Israel: Isaiah 44–45
Saving the Remnant: Isaiah 46–48
The Servant's Mission: Isaiah 49–53
Mercy and Comfort: Isaiah 54–55
True Worship: Isaiah 56–59
Light for the People: Isaiah 60–62
God's Mercy: Isaiah 63–64
Rejoice: Isaiah 65–66
About the Authors
Laurie W. Manhardt holds a BA in psychology from the University of Detroit and a PhD in education from the University of Michigan. She led an interfaith Bible study for 10 years, which convinced her of the need for quality Catholic Bible study resources. The Come and See: Catholic Bible Study Series is the result.
Charles G. Kosanke is the former rector of Saints Cyril and Methodius Seminary in Orchard Lake, Michigan, who completed his doctorate in sacred theology at the Pontifical Gregorian University in Rome.
Reviews
What other people are saying about Come and See: Isaiah.