"Unto Me"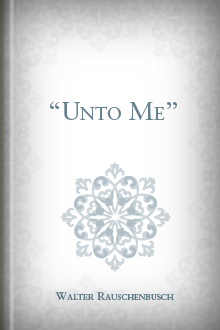 Based on Jesus' statement that what is done for others was done "unto me," this book explores the Christian nature of social work. Love for God, says Rauschenbusch, also demands love for men and social work is "both the product and the cause of genuine religion." Ultimately, following Christ's example demands love for others and willingness to share in suffering.
About Walter Rauschenbusch
Walter Rauschenbusch (1861–1918) was a Baptist pastor and important figure in the Social Gospel movement. He co-founded The Brotherhood of the Kingdom, a group of thinkers advocating social change. His writings influenced Martin Luther King Jr., Desmond Tutu, and multiple social justice ministries.
Reviews
What other people are saying about "Unto Me".