Bernard of Clairvaux: Between Cult and History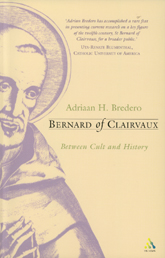 Overview
Bernard of Clairvaux: Between Cult and History summarizes Bredero's lifelong study of Bernard, the Cistercian monk who was arguably the most influential ecclesiastical figure of the twelfth century and who remains one of the church's most venerated saints.
Adriaan H. Bredero first began reading Bernard of Clairvaux in 1944 as a young university student forced into hiding by the Nazi occupation of the Netherlands. Over the past sixty years, Bredero's academic interest in Bernard has branched out to cover topics as diverse as the historical value of the vita prima, Bernard's part in the conflict between Cîteaux and Cluny, and the image of St. Bernard as it has been developed by hagiographers and scholars through the ages.
For more about Church History, don't miss the Logos Church History Product Guide!
Praise for the Print Edition
Adriaan Bredero has accomplished a rare feat in presenting current research on a key figure of the twelfth century, St. Bernard of Clairvaux, for a broader public.
—Uta-Renate Blumenthal, Catholic University of America
Bredero has produced a book that summarizes his lifelong preoccupation with the greatest saint of the twelfth century … The problem that intrigues Bredero … is the tension between Bernard the powerful churchman, resented by many contemporaries and by many interpreters still today, and Bernard the monk, master communicator of the most intimate spiritual experiences, beloved by numerous contemporaries, by John Calvin, and by many readers still today… A magisterial overview.
—John Van Engen, Church History
Product Details
Title: Bernard of Clairvaux: Between Cult and History
Author: Adriaan Bredero
Publisher: T & T Clark
Publication Date: 2004
Pages: 320
About Adriaan H. Bredero
Adriaan H. Bredero is Professor Emeritus of medieval history at the Free University in Amsterdam.
Sample Pages from the Print Edition
Reviews
What other people are saying about Bernard of Clairvaux: Between Cult and History.