Russian Émigré Theology & Philosophy (4 vols.)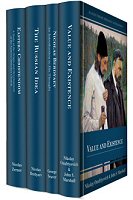 Overview
A Russian émigré was someone who emigrated from Russia during the period of the Bolshevik revolution and the Soviet takeover of the Russian Empire in the early part of the twentieth century. These people found themselves in a number of different nations, including both Germany and France. The cities of Berlin and Paris evolved into thriving émigré communities, and were often centers of Russian theological, philosophical, and political thought during the twentieth century. The nationalism of the scholars and theologians associated with the émigré movement was driven by a deeply felt notion that the Soviet ethos was entirely non-Russian, and that true Russian philosophy and thought was being preserved outside of her borders. As a result, this period of history led to a widespread missionary movement on the part of the Russian Orthodox Church abroad, carrying the Orthodox Gospel to several nations for the first time in history. This collection provides works that are representative of various perspectives of émigré thought, covering everything from an historical overview of the Orthodox Christian Church to the existentialist, political philosophy of Nicolas Berdyaev. A must-have set for anyone interested in early-twentieth century politics, theology, or philosophy.
With the Logos edition, all Scripture references are tagged and appear in your favorite translation on mouseover. Each volume is completely searchable, so you can trace the connections between various themes, events, and historical figures in the Russian Christian and philosophical traditions like never before. You can also cross-reference related texts at the touch of a button, and all your dictionaries and other reference tools are just a click away.
Key Features
Thorough introduction to Russian émigré philosophy and theology
Detailed, historical overview of the Russian Orthodox Church and her place in the modern world
Examination of the existential, Christian philosophy of Nicolas Berdyaev
Musings on the idea of Russia as the "Third Rome"
The idea of Christian universalism from a Russian perspective
Product Details
Title: Russian Émigré Theology and Philosophy (4 vols.)
Volumes: 4
Pages: 926
Reviews
What other people are saying about Russian Émigré Theology & Philosophy (4 vols.).