The Pilgrim's Progress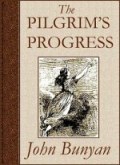 Overview
This classic work by John Bunyan is known as the greatest allegory in the English language. It describes the journey of "Pilgrim" as he travels through life struggling onward through trials and temptations to reach the celestial city and keep to the path which is the narrow road. A classic allegorical tale which is enjoyable to read and teaches about the life of a man on the way to his reward.
Product Details
Title: The Pilgrim's Progress
Author: John Bunyan
Publisher: Logos Research Systems, Inc.
Publication Date: 1995
Pages: 244
Reviews
What other people are saying about The Pilgrim's Progress.