God the Almighty: Power, Wisdom, Holiness, Love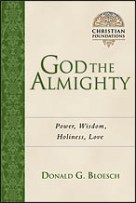 Overview
God is variously portrayed as vulnerable (Jürgen Moltmann, Clark Pinnock), as lover (Norman Pittenger, Ronald Goetz), as friend (Alfred North Whitehead, Sallie McFague) and as empowerer (Rosemary Radford Ruether). Bloesch agrees that many of these proposals have some biblical merit. But what is lacking, he argues, "is a strong affirmation of the holiness and almightiness of God."
In this volume, while Bloesch offers cogent criticisms of the classical view of God, he skillfully seeks to hold in faithful tension "the polarities that are reflected in God's nature and activity—his majesty as well as his vulnerability, his sovereignty as well as his grace, his wholly otherness as well as his unsurpassable closeness, his holiness as well as his love."
Praise for the Print Edition
This work will be read by all who are interested in the renewal of systematic theology in our time. It is an inspiring, balanced, instructive, rigorous inquiry.
—Thomas C. Oden, Professor Emeritus, Drew University
I haven't read any theological work as biblically and historically rich, as intellectually satisfying, or as spiritually exhilarating as Bloesch's [early volumes of Christian Foundations] since Karl Barth's Church Dogmatics.
—David Gill in Christianity Today
Product Details
Title: God the Almighty: Power, Wisdom, Holiness, Love
Authors: Donald Bloesch
Publisher: InterVarsity Press
Publication Date: 1995
Pages: 325
About Donald Bloesch
Donald Bloesch (Ph.D., University of Chicago) is professor of theology emeritus at Dubuque Theological Seminary in Dubuque, Iowa. He has written numerous books, including Essentials of Evangelical Theology, The Future of Evangelical Christianity, The Struggle of Prayer, and Freedom for Obedience. He is also a past president of the Midwest Division of the American Theological Society.
Sample Pages from the Print Edition
Reviews
What other people are saying about God the Almighty: Power, Wisdom, Holiness, Love.