At Risk in the Promised Land: A Commentary on the Book of Judges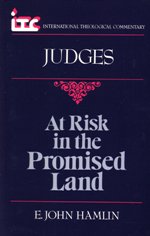 Overview
This theological treatment of the Book of Judges is fresh, original, imaginative, scholarly, and relevant.
In his commentary E. John Hamlin pays careful attention to the structure and meaning of the text of Judges, and he elucidates the "risk" that Israel faced in the Promised Land—the risk of living among the "Canaanites," of adopting their ungodly practices and their way of organizing society (the way of death). Hamlin's characterizations of the various liberator judges are particularly thought-provoking.
Each chapter concludes with "Perspectives" on the text—reflections on the ancient context of the Judges accounts, insights from the Asian cultures among which Hamlin has lived and worked, and applications to modern situations.
Product Details
Title: At Risk in the Promised Land: A Commentary on the Book of Judges
Author: E. John Hamlin
Publisher: Eerdmans
Publication Date: 1990
Pages: 182
About E. John Hamlin
E. John Hamlin is professor emeritus of Old Testament at McGilvary Faculty of Theology, Payap University, Chiang Mai, Thailand. He has spent most of his life teach in in China, Thailand, and Singapore; his other books include God and the World of Nations and the ITC volume on Joshua.
Reviews
What other people are saying about At Risk in the Promised Land: A Commentary on the Book of Judges.