Word and Presence: A Commentary on the Book of Deuteronomy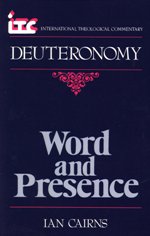 Overview
In this commentary Ian Cairns presents Deuteronomy as a slowly evolving, complex composite—as legal code, as treaty text or covenant, as Moses' farewell speech, and as the final volume of the Pentateuch. Despite Deuteronomy's structural complexity, however, Cairns shows how the theme "Word and Presence" permeates the entire book: God is the living Presence who can be encountered and known through his word addressed to each generation in turn. This commentary is unique in its emphasis on the theology of Deuteronomy (e.g., law as "humane instruction") as well as in its modern applications and illustrations from non-Western cultures.
Product Details
Title: Word and Presence: A Commentary on the Book of Deuteronomy
Author: Ian Cairns
Publisher: Eerdmans
Publication Date: 1992
Pages: 308
About Ian Cairns
Ian Cairns, a native of New Zealand, taught theology in Indonesia for twenty years. Since returning to New Zealand in 1980 he has served as a parish minister and as a lecturer in biblical studies. He has published five books in Indonesian, including a commentary on Deuteronomy.
Reviews
What other people are saying about Word and Presence: A Commentary on the Book of Deuteronomy.