Israel among the Nations: Nahum, Obadiah & Esther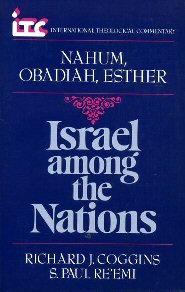 Overview
This commentary concerns writings which emerged from three successive stages in Judah's decline and captivity—the century of fear engendered by the Assyrian menace (addressed in Nahum), the shock and disorientation that followed the Babylonian destruction of Jerusalem (Obadiah), and the necessary dilemma of adapting yet maintaining their uniqueness in an alien setting (Esther). All three books reflect the efforts to maintain faith despite continued assaults on traditional views of the nature of God and the Covenant.
Key Features
Provides useful commentary on the three books that came out of the fall of Judah
Contains detailed analysis of the ancient Hebrew texts that make up Nahum, Obadiah, and Esther
All Scripture references appear on mouse-over
Contents
In Wrath Remember Mercy: A Commentary on the Book of Nahum
Judgment between Brothers: A Commentary on the Book of Obadiah
The Faithfulness of God: A Commentary on the Book of Esther
Product Details
Title: Title of Collection
Authors: Richard J. Coggins, S. Paul Re'Emi
Series: International Theological Commentary
Publisher: Eerdmans
Publication Date: 1985
Pages: 140
About the Authors
Richard J. Coggins, the author of the commentaries on Nahum and Obadiah, is Senior Lecturer in Old Testament Studies at Kings College, London.
S. Paul Re'emi is a scholar of both German and French universities who served for many years as presbyter of the Church of Scotland in Israel.
Reviews
What other people are saying about Israel among the Nations: Nahum, Obadiah & Esther.