College Press NIV Commentary: Deuteronomy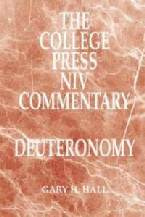 Overview
Deuteronomy has been a controversial book for at least the last 120 years. At that time what is known as the critical school developed which insisted that the book could neither have been written at the time of the exodus and wandering nor could it have been written by Moses. Hall has cogently and thoroughly defended the conservative position which holds to the traditional view which the book claims for itself. By carefully delineating the structure of the book both holistically and in many disputed passages, he demonstrates that Deuteronomy was originally a single piece of legal history, not a hodgepodge of writings from various times in Israel's history put together by a series of editors in the years after the exile.
Product Details
Title: College Press NIV Commentary: Deuteronomy
Author: Gary H. Hall
Publisher: College
Publication Date: 2000
Reviews
What other people are saying about College Press NIV Commentary: Deuteronomy.