College Press NIV Commentary: 1 & 2 Kings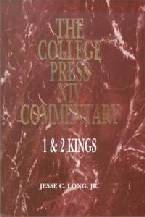 Overview
1 & 2 Kings tell of David's death, the golden age of Solomon's reign, how the nation divided into two kingdoms, and their eventual captivity by heathen powers. Solomon, David's son, began his rule with great wealth, glory, and power, but it ended in disgrace.
The spiritual condition of Israel was of paramount importance to the writer amidst political changes. The author of Kings holds up the history of Israel and Judah before the captives to teach them that the only way to freedom is to repent of idolatry, return to God, keep the covenant, and trust in the divine promises. He seeks to awaken in them a conviction of the truth of this teaching and to strengthen them in this conviction.
Key Features
Biblically sound exegesis
Clear exposition
Objective approach
Concise introduction
New International Version of the Bible
Key word translation
Easy to use design format
Practical footnotes
Product Details
Title: College Press NIV Commentary: 1 & 2 Kings
Author: Jesse C. Long
Editors: Terry Briley and Paul J. Kissling
Publisher: College
Publication Date: 2000
About Jesse C. Long
Jesse C. Long is Professor of Old Testament, Syro-Palestinian Archaeology, and Homiletics at Lubbock Christian University. He received his B.A. from David Lipscomb College, his M.A.(Bible) from the Alabama Christian School of Religion, his M.E.d. from Georgia State University, his M.Phil. from Drew University, his M.A. (Syro-Palestinian Archaeology), and his Ph.D(Old Testament) from Drew University. He has had numerous articles published in books and periodicals.
Sample Pages from the Print Edition
Reviews
What other people are saying about College Press NIV Commentary: 1 & 2 Kings.