Living the Extraordinary Life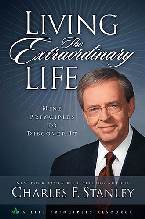 Overview
To many in the world, the Christian faith is a set of rules and regulations. But Jesus himself did not teach his followers in sets of dos and don'ts; he taught them foundational principles to live by. These life principles, Charles Stanley says, are the simple truths that act as a compass for our souls.
You will learn:
Your life is a Masterpiece
Waiting on God is not passive
Disappointments are inevitable, but discouragement is a choice
You were created with eternity in your heart
God assumes full responsibility for your needs when you obey Him
Using examples from his own personal experiences, Biblical personalities, and case studies, Dr. Stanley demonstrates how these key life principles impact life in the 21st century—and how they make us, as Christians, different from those who live their lives according to preference, rather than principles.
Product Details
Title: Living the Extraordinary Life
Author: Charles Stanley
Publisher: Thomas Nelson
Publication Date: 2005
Reviews
What other people are saying about Living the Extraordinary Life.