The Wonderful Spirit-Filled Life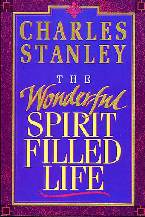 Overview
Life abundant—Jesus promised it and we long for it, yet few Christians seem to have it. Blending lively anecdotes, commentary, and teachings from the Bible, Stanley introduces you to the Holy Spirit. He is not an oversized electrical current you just plug into when you need additional help, or a theological concept, but just as real and active as Christ. He has personality as well as a specific job description and a definite desire to be an active part of our lives.
Product Details
Title: The Wonderful Spirit-Filled Life
Author: Charles Stanley
Publisher: Thomas Nelson
Publication Date: 1997, 1992
Reviews
What other people are saying about The Wonderful Spirit-Filled Life.