Eternal Security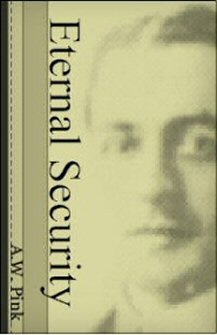 Overview
The foreword states, "Eternal Security is the teaching that God shall with no uncertainty bring into their eternal inheritance those who are actually justified-delivered from the curse of the law and have the righteousness of Christ reckoned to their account-and who have been begotten by the Spirit of God." If you're looking for an exceptionally thorough yet readable treatment of the subject of eternal security (also known as the Perseverance of the Saints), this book is for you. As a careful expositor of Scripture, Pink demonstrates the doctrine of eternal security by examining various passages while remaining sensitive to their context.
Key Features
Challenging and inspirational
Rich in devotional and practical truth
Praise for the Print Edition
The widespread circulation of his writings after his death made him one of the most influential evangelical authors in the second half of the twentieth century.
—Iain H. Murrary
Product Details
Title: Eternal Security
Author: A. W. Pink
Publisher: Logos Research Systems, Inc.
Publication Date: 2005
Pages: 126
About A. W. Pink
A. W. Pink (1886-1952) a native of Nottingham, England, whose life as a pastor and writer was spent in a variety of locations in the British Isles, the United States, and Australia. As a young man he turned away from the Christian faith of his parents and became an adherent of the theosophical cult; but then he experienced an evangelical conversion and crossed the Atlantic in 1910, at the age of 24, to become a student at the Moody Bible Institute in Chicago. After only six weeks, however, he left to take up a pastoral ministry. It was during the years that followed that he found his way to a strictly Calvinistic position in theology. He was soon wielding a quite prolific pen. As one whose life was devoted to the study and exposition of the Scriptures, he became the author of numerous books which the Banner of Truth Trust has been assiduously reprinting in recent times. No doubt his chief monument is the paper Studies in the Scriptures which he produced monthly and regularly for a period of thirty years from the beginning of 1922 until his death in 1952.
Reviews
What other people are saying about Eternal Security.