How the Truth Can Set You Free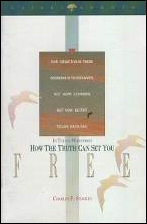 Overview
Negative emotions such as fear, insecurity, or inadequacy hold us in bondage and prevent us from reaching our full potential as Christians. God's truth frees us from this bondage. This workbook is a study guide to a 10–tape audio series created by Charles Stanley that explores how God wants us to be free. It promotes reflection on each lesson and how to apply the presented principles. The guide includes a Bible reading record. This booklet is one of three easy–to–use yet in–depth study booklets from InTouch Ministries: Set your Goals and Live by Faith; How the Truth Can Set You Free; and Dealing with Life's Pressures.
Product Details
Title: How the Truth Can Set You Free
Author: Charles Stanley
Publisher:In Touch Ministries
Publication Date: 1980
Reviews
What other people are saying about How the Truth Can Set You Free.