How to Keep Your Kids on Your Team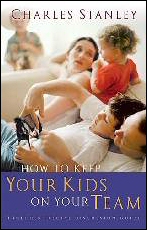 Overview
"It's not what you think that will impact your child; it's what you communicate." What are you telling your kids? Are you telling them that their crises are trivial and their ideas are foolish? Probably not in so many words, but you may be communicating just that with your lack of interest in the day–to–day activities of your child. To keep your children on your team, Charles Stanley asserts, you must assure them from the start that you are on theirs.
Focusing on the parental role as one of stewardship rather than ownership, Stanley instructs parents on how to ingrain a sense of personal accountability to God into the minds of children at an early age. By doing so, parents can raise confident, self–controlled kids who will hold fast to the values they instill.
Product Details
Title: How to Keep Your Kids on Your Team
Author: Charles Stanley
Publisher: Thomas Nelson
Publication Date: 1986
Reviews
What other people are saying about How to Keep Your Kids on Your Team.