How to Listen to God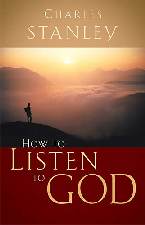 Overview
After becoming a Christian, believers discover the joy of God's voice, but often the purity and freshness of that initial experience becomes clouded by the daily routine of life. In How to Listen to God Dr. Charles Stanley helps readers rediscover how to distinguish God's voice from all other voices around them, and how to joyfully and obediently respond. Dr. Stanley uses personal experiences from his life and ministry to discuss: why God wants to communicate with us, how God gets our attention, how God communicates with us, and how to listen to God and enjoy His presence.
Product Details
Title: How to Listen to God
Author: Charles Stanley
Publisher: Thomas Nelson
Publication Date: 1985
Reviews
What other people are saying about How to Listen to God.