The Gift of Forgiveness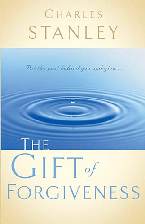 Overview
The following pages flow from my struggle to forgive people whom I trusted and loved as my friends, yet they proved otherwise. More than anything, this book is simply an invitation to deal with the poison of an unforgiving spirit. It is a poison capable of ruining not only your life, but the lives of those around you as well. It is my prayer that in these pages you will discover the freedom that comes from putting behind you once and for all the hurts and injustices of yesterday.
Product Details
Title: The Gift of Forgiveness
Author: Charles Stanley
Publisher: Thomas Nelson
Publication Date: 1987, 1991
Reviews
What other people are saying about The Gift of Forgiveness.