The Glorious Journey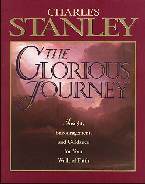 Overview
The Glorious Journey is written from Charles Stanley's perspective of more than forty years as a Christian and thirty years as a pastor. It is a compilation of the scriptural principles that he has learned and applied. Although it is not an exhaustive work, it is rich in content and counsel. The book is divided into eight major categories: Church Concerns, Daily Living, Doctrine, End Times, Personal Growth, Relationships, Service and Outreach, and Spiritual Disciplines. Each major section has numerous topics that you will find interesting, stimulating, inspiring, and refreshing.
Product Details
Title: The Glorious Journey
Author: Charles Stanley
Publisher: Thomas Nelson
Publication Date: 1996
Reviews
What other people are saying about The Glorious Journey.