On Holy Ground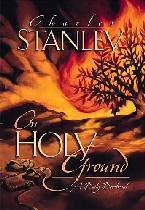 Overview
Abraham leaving Ur for an unknown land God would show him. Jesus going out into the wilderness of temptation. Paul's life-changing trip down the Damascus Road. All of these biblical journeys offer insight into our own personal spiritual journey. In On Holy Ground, Charles Stanley takes an in-depth look at twelve-such biblical journeys to show us how we, too, can meet God and follow where He leads. Relating the timeless stories to our modern situations, Dr. Stanley offers solid biblical teaching that meets practical daily needs for encouragement and inspiration. A powerful devotional in the tradition of his best-selling classic, Enter His Gates.
Product Details
Title: On Holy Ground
Author: Charles Stanley
Publisher: Thomas Nelson
Publication Date: 1999
Reviews
What other people are saying about On Holy Ground.