The Scripture Alphabet of Animals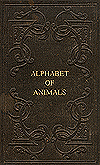 American Tract Society
, 1842
Overview
This American classic, published in 1842, is a little known treasure of information about animals in the Bible. Learn how God uses animals to teach us, to fulfill prophecy, to show His love, and even to speak to us like Balaam's donkey.
This short volume provides valuable context on over 30 animals mentioned in the Bible. The Scripture Alphabet of Animals is an ideal reference work for discovering where certain animals are named and their place in various stories, such as lions, sheep, quail, and camels. In addition to describing each animal and its biological features, Cook also provides common stories of animals throughout history and ties in theological themes, such as how the author of Proverbs uses the life of the ant to warn against laziness. This will be a fantastic and useful reference volume for anyone interested in how Scripture characterizes animals.
Key Features
Documents 33 animals throughout the Bible
Alphabetized table of contents for quick reference
Perfect for those interested in how animals are portrayed in Scripture
All Scripture reference are tagged and linked to your preferred translation of the Bible
Product Details
Title: The Scripture Alphabet of Animals
Author: Harriet Newell Cook
Publisher: American Tract Society
Publication Date: 1842
Pages: 98
Author
Reviews
What other people are saying about The Scripture Alphabet of Animals.