Hebrew/Aramaic Index to the Septuagint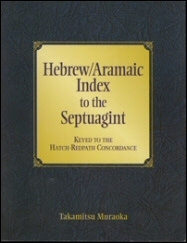 Overview
Takamitsu Muraoka has compiled a user-friendly Hebrew/Aramaic index to the Septuagint. He critically examines all of the Hebrew-Greek and Aramaic-Greek equivalences assigned by the Hatch-Redpath Concordance to the Septuagint, particularly focusing on lexicographical and text-critical advancements in the study of both the Septuagint and the Hebrew Bible in the last century. Whereas the Hatch-Redpath Hebrew Index is restricted to a list of page/column references, Muraoka's Hebrew/Aramaic Index to the Septuagint offers a complete listing of the Greek equivalents for every Hebrew and Aramaic term in the Hebrew Bible, Sirach, and I Esdras. In each entry, Hebrew words are written first, then proceeded by the Greek words which are also keyed to the Hatch-Redpath Concordance.
Key Features
Partial Revision of Hatch and Redpath
Identifies Hebrew/Aramaic lexemes
Remains close to Semitic text
Retains all hyponyms of H/R
Relevant information in author's I Esdras is incorporated here
Retains H/R's mode of vocalizing all Hebrew and Aramaic verbs
Easy to follow symbols
Product Details
Title: Hebrew/Aramaic Index to the Septuagint: Keyed to the Hatch-Redpath Concordance
Author: Takamitsu Muraoka
Publisher: Baker Academic
Publication Date: 1998
Pages: 160
About Takamitsu Muraoka
Takamitsu Muraoka served as professor of Hebrew at Leiden University. He is an internationally recognized Septuagint scholar, having received his Ph.D. from the Hebrew University in Jerusalem. Among his publications are Classical Syriac for Hebraists and A Grammar of Egyptian Aramaic. In addition, he translated and revised Paul Joüon's Grammar of Biblical Hebrew.
Check out these other resources on the Septuagint
Reviews
What other people are saying about Hebrew/Aramaic Index to the Septuagint.