Upon this Rock: St. Peter and the Primacy of Rome in Scripture and the Early Church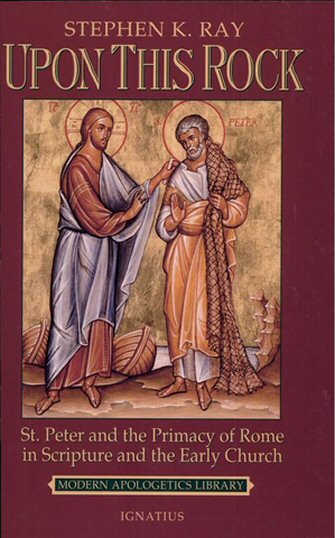 Overview
Ray, a former Evangelical Protestant and Bible teacher, goes through the Scriptures and the first five centuries of church history to demonstrate that the early Christians had a clear understanding of the primacy of Peter in the See of Rome. He tackles the tough issues in an attempt to expose how the opposition is misunderstanding the Scriptures and history. He uses many well-known and respected scholars and historians to support the Catholic position. This volume has one of the largest citations of Scriptural and Patristic quotations on the primacy of Peter and the Papal office of any book available—with over 500 footnotes with supporting evidence from Catholic, Orthodox, Evangelical, and non-Christian authorities.
Praise for the Print Edition
This book defends Catholic teaching against the opposition, using current Church teaching on the Old Testament foundation for the primacy and succession of Peter. A rich documentation, a fine study.
—Cardinal Christoph Schönborn
A veritable tour de force on behalf of the Petrine ministry, bringing together exegetes, the Fathers of the Church, the witness of history, and even Protestant scholars. The work is scholarly, objective, and accessible to all readers. Recommended wholeheartedly and unequivocally.
—Peter M.J. Stravinskas, professor of theology and education, St. John's University and Seton Hall
Product Details
Title: Upon this Rock: St. Peter and the Primacy of Rome in Scripture and the Early Church
Author: Steve Ray
Publisher: Ignatius Press
Publication Date: 1999
Pages: 350
About Steve Ray
Stephen K. Ray converted to the Catholic Church from a Baptist background in 1994, after an in-depth study of the writings of the Church Fathers. He is the host of the popular, award-winning film series on salvation history, The Footprints of God. Steve is the author of the bestselling books Crossing the Tiber, St. John's Gospel, and Upon This Rock. He is a popular conference and retreat speaker, has been a guest radio speaker, and made appearances EWTN.
Reviews
What other people are saying about Upon this Rock: St. Peter and the Primacy of Rome in Scripture and the Early Church.