The Strategy of Satan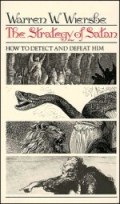 Overview
This book is a manual of arms for the Christian soldier. It is a deadly serious guidebook for the dedicated Christian who is on the battlefield and wants to know how to win. This book gives biblical instruction for defeating the strategies of Satan's attacks as deceiver, destroyer, ruler, and accuser. Special emphasis is placed on conquering the enemy by obeying God's truth in the church and in the home.
Logos Bible Software dramatically improves the value of this resource by enabling you to find what you're looking for with unparalleled speed and precision. Scripture passages link to your favorite translation and you can easily study it side-by-side with the other commentaries in your digital library. This makes the text more powerful and easier to access than ever before for scholarly work or personal study.
Product Details
Title: The Strategy of Satan
Author: Warren W. Wiersbe
Publisher: Tyndale
Publication Date: 1979, 1996
Pages: 176
Reviews
What other people are saying about The Strategy of Satan.