Baker's Dictionary of Practical Theology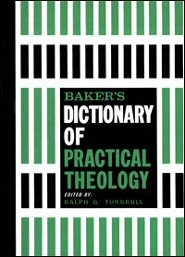 Overview
Neither an encyclopedia or a history, Baker's Dictionary of Practical Theology lies between the two as a source book for pastors and students. A dictionary by title, this book takes on a different form as only ten divisions of the minister's work are given classification. Within each division are articles of a longer exposition written by an authority on the subject. Those divisions are: Preaching, Homiletics, Hermeneutics, Evangelism-Missions, Counseling, Administration, Pastoral, Stewardship, Worship, and Education.
Contributors, coming from all branches of the Christian Church and from several countries, were readily cooperative when invited to participate. This collaboration resulted in a book that helps to bring understanding of the tasks and difficulties involved in a minister's work.
Product Details
Title: Baker's Dictionary of Practical Theology
Author: Ralph G. Turnbull
Publisher: Baker
Publication Date: 1967
Pages: 491
About Ralph G. Turnbull
Born and raised in Scotland, Ralph G. Turnbull (1901-1985) served the church in Great Britain, Canada and finally the United States. With a great appreciation and expertise in the history of preaching, he taught at Western Theological Seminary, Pittsburgh, for ten years. His "retirement" left him no less involved in teaching and preaching as he was Professor of Religion in Residence at Warner Pacific College, Portland, OR, and Adjunct Professor of Preaching at Bethel Theological Seminary, San Diego, CA.
Best known for his prolific authorship, Turnbull wrote and edited many books with emphasis on ministers, evangelicals and practical theology. Many of his writings were initially presented from his pulpit and others from various conferences and lectures for ministers. His favorite subject, within the history of preaching, was Jonathan Edwards, and so when he arrived to the United States, he took a special interest in Edwards to learn more about American preaching.
Reviews
What other people are saying about Baker's Dictionary of Practical Theology.