Church Origins Collection (10 vols.)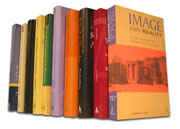 Overview
Church Origins Collection captures the earliest development of the church in history, theology and theory. The ten volumes offered explore the cultural, doctrinal and traditional landscape of the budding church. These include the church's roots in and relationships with the Graeco-Roman, Judaic, and Mesopotamian worlds; its integration into African and European cultures; its ministerial life and doctrines; and more.
Written by top scholars of the New Testament, each title presents state-of-the-art scholarship and keen insight into the origins of the Christian church. The volumes focus not only on where the church has been, but the implications of that history on our present era. This includes the contemporary view of the role of elder in the church, the ordination of women, and charismatic gifts.
Product Details
Title: Church Origins Collection (10 vols.)
Publisher: T&T Clark
Volumes: 10
Pages: 3,230
Reviews
What other people are saying about Church Origins Collection (10 vols.).