The Lord's Prayer Through North African Eyes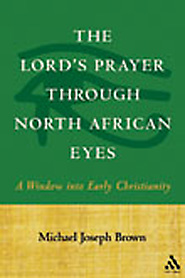 Overview
Michael Brown's volume helps to explain why Christians throughout the ages have interpreted texts differently, especially cultic texts. Beginning with an imagined Graeco-Roman auditor of the Lord's Prayer, Brown demonstrates how a Graeco-Roman's understanding of the prayer would have been different from that of a Hellenized Jew in Palestine. Brown takes the reader into discussions of early Graeco-Roman Christians regarding prayer in general and the Lord's Prayer in particular. Focusing on cultic didachai of Clement of Alexandria and Tertullian of Carthage, The Lord's Prayer through North African Eyes is a window into the turbulent and sometimes confusing world of second-century Christianity in Africa.
This resource is also available as part of the Church Origins Collection (10 vols).
Praise for the Print Edition
The Lord's Prayer through North African Eyes is an original and important contribution to scholarship on early Christian prayer. Brown's thorough reconstruction of the social context of early Christian teachers like Clement of Alexandria and Tertullian of Carthage, as well as of their distinct appreciations of the Lord's Prayer, is a model of scholarly precision and imagination.
—Luke Timothy Johnson, Emory University
Michael Brown is one of the most creative scholars of early Christian studies around. His book… opens new and profound perspectives on the most famous Christian prayer.
—Adela Yarbro Collins, Yale University Divinity School
Product Details
Title: The Lord's Prayer through North African Eyes: A Window into Early Christianity
Editor: Michael Brown
Publication Date: 2004
Pages: 312
About Michael Joseph Brown
Michael Joseph Brown is Assistant Professor of New Testament and Christian Origins, Candler School of Theology, Emory University in Atlanta, Georgia. He is the author of What They Don't Tell You: A Survivor's Guide to Academic Biblical Studies.
Sample Pages from the Print Edition
Reviews
What other people are saying about The Lord's Prayer Through North African Eyes.