The Theology of St. Cyril of Alexandria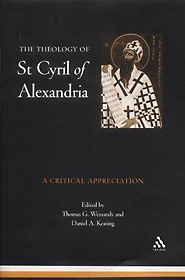 Overview
There is no book in English that treats the whole of Cyril's theological thought. In the past scholars have normally focused on Cyril's Christology and left largely unexamined the remainder of his theological thought. Thus the English-speaking scholarly community has never fully appreciated the breadth, the depth and the immense significance of Cyril's theology.
This volume is therefore unique. The editors have brought together many of the foremost experts on Cyril. This international team examines all the major facets of his theology, and here for the first time reveals the theology of Cyril of Alexandria as a magisterial whole.
This resource is also available as part of the Church Origins Collection (10 volumes).
Praise for the Print Edition
Steeped in the writings of ancient Greek, Roman, Hellenistic, and Jewish historians, Penner employs his impressive skills of interpretation to produce a ground-breaking study of Stephen and the Hellenists in Acts. He shows that Luke, like other ancient historians, was less interested in historicity than in writing a persuasive narrative. Penner's study will almost certainly encourage his peers to consider new approaches to the study of the Acts of the Apostles.
—Joseph B. Tyson, Southern Methodist University
Product Details
Title: The Theology of St. Cyril of Alexandria: A Critical Appreciation
Editors: Thomas G. Weinandy and Daniel A. Keating
Publisher: T&T Clark
Publication Date: 2003
Pages: 268
About the Author
Thomas G. Weinandy is the Executive Director of the Secretariat for Doctrine and Pastoral Practices of the United States Conference of Catholic Bishops. Formerly, he was Warden of Greyfriars Hall and Lecturer in History and Doctrine in the Faculty of Theology, Oxford University.
Daniel A. Keating teaches at Sacred Heart Major Seminary, Detroit.
Reviews
What other people are saying about The Theology of St. Cyril of Alexandria.