Selected Sermons of Schleiermacher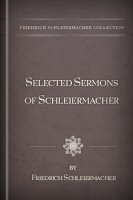 Hodder and Stoughton
, 1890
Overview
Gain insight into the father of liberal theology's thought by studying the words he shared from the pulpit. This volume contains 26 of Friedrich Schleiermacher's sermons on a range of topics—marriage, service, death, the resurrection, and more. This controversial theologian questioned traditional Protestant thinking and developed a system of theology based upon human experience and emotion. Any study of liberal Christianity or the Neo-Orthodoxy that responded to it should begin with Schleiermacher's own teachings.
Logos' cutting-edge research tools make it easy to compare Schleiermacher's theology with others such as Barth or Bonhoeffer. Scripture citations appear on mouseover in your preferred English translation. Important terms link to dictionaries, encyclopedias, and a wealth of other resources in your digital library. With Logos Bible Software, the most efficient and comprehensive research tools are in one place, so you get the most out of your study.
Key Features
Offers 26 sermons from the father of liberal theology
Provides an effective starting point for anyone interested in the study of liberal Christianity
Covers many topics in a way that questioned traditional Protestant thinking
Contents
The Power of Prayer in Relation to Outward Circumstances
The Dying Savior Our Example
A Nation's Duty in a War for Freedom
Necessity of the New Birth
Christ and the Unstable
Forgiveness and Love
On Marriage
The Christian Training of Children
Rejoicing Before God
Love and Service
God's Restraining Power
The Last Look at Life
The Death of the Savior the End of All Sacrifices
Christ's Resurrection an Image of Our New Life
Jesus Born the Son of God
Christ Bringing a Sword
The Savior's Peace
Why the Divine Invitation Is Refused
Loved in the Beloved
Thanksgiving after Chastisement
God's Love Magnified in Christ's Death
The Prayer of Stephen
Provoking Each Other to Love and Good Works
The Savior's Last Hours
The Parting Promises of the Savior
True Harvest Joy
Product Details
Title: Selected Sermons of Schleiermacher
Author: Friedrich Schleiermacher
Translator: Mary F. Wilson
Publisher: Hodder and Stoughton
Publication Date: 1890
Pages: 451
Christian Group: Evangelicals
Resource Type: Sermons
Topic: Practical Life
About Friedrich Schleiermacher
Friedrich Schleiermacher (1768–1834) was born in Breslau, Silesia, Prussia. His father was a Reformed chaplain in the Prussian army. Schleiermacher attended a Moravian school and eventually went to the University of Halle. He graduated from Halle in 1794 and began to tutor the children of an aristocratic family. He left after two years and took up a chaplaincy at a hospital in Berlin. While in Berlin, Schleiermacher was influenced by the Romantic movement, particularly the emphasis on imagination and emotion. He read the works of Baruch Spinoza, Plato, Immanuel Kant, Fichte, and Schelling. In 1802 he became the pastor of a congregation in Stolp, Pomerania. He left in 1804 to accept a position as preacher and professor of theology at the University of Halle. In 1807, he accepted an offer to become pastor of Trinity Church in Berlin. While there, he helped found the University of Berlin and accepted a chair of theology. He also became the secretary of the Prussian Academy of Sciences. Schleiermacher's advocacy of the unification of the Reformed and Lutheran branches of the German church led to the Prussian Union of Churches in 1817. Schleiermacher wrote his magnum opus, Der christliche Glaube nach den Grundsätzen der evangelischen Kirche (The Christian Faith according to the Principles of the Protestant Church), in 1821 and revised it in 1831.
Reviews
What other people are saying about Selected Sermons of Schleiermacher.