The Great Book of Needs (4 vols.)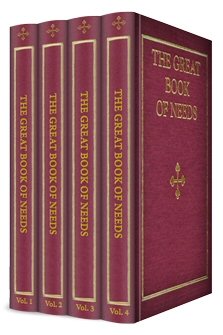 St. Tikhon's Seminary Press
, 1999–2002
Overview
St. Tikhon's Monastery presents The Great Book of Needs—the first complete English edition of the Slavonic Trebnik (or in Greek, the Euchologion). These four volumes contain all the Trebnik services translated from the Church Slavonic, along with accompanying notes. St. Tikhon's has also rearranged the services from the order in which they have been historically published, seeking to create a more logical sequence. This service book contains prayers for various needs; services associated with the Holy Mysteries, Moliebens, death and the departed, and the sanctification of the temple; as well as other specific blessings and services.
The Logos version of The Great Book of Needs is fully searchable and easily accessible. Scripture passages link directly to your preferred English translation and to the original-language texts, while important concepts link to dictionaries, encyclopedias, and a wealth of other resources in your digital library. Powerful searches help you find exactly what you're looking for, and mobile apps let you take your study wherever you go. With the most efficient and comprehensive research tools all in one place, you can expand your study with just a few clicks.
Key Features
Complete four-volume English edition of the Slavonic Trebnik
Translation and notes by St. Tikhon's Monastery
Prayers, blessings, and services for specific occasions
Product Details
Reviews
What other people are saying about The Great Book of Needs (4 vols.).