The Amsterdam Philosophy: A Preliminary Critique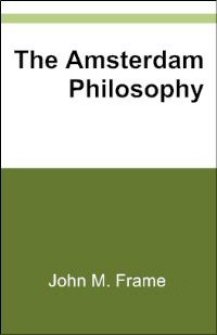 Overview
This booklet was published in the midst of theological warfare. Representatives of the Amsterdam philosophy (Herman Dooyeweerd and others) were taking a militant stance against traditional Reformed theology, and the controversy created partisan battles on the campus of Westminster Theological Seminary, where Frame was a young professor. It also threatened to split churches, Christian schools, and other Christian organizations. As a member of a committee of the Ohio Presbytery of the Orthodox Presbyterian Church, Frame was asked to write a brief study of the movement. This booklet is the result.
In the Logos edition of this volume, you get easy access to Scripture texts and to a wealth of other resources in your digital library. Hovering over Scripture references links you instantly to the verse you're looking for, and with passage guides, word studies, and a wealth of other tools from Logos, you can delve into God's Word like never before!
Key Features
Provides an introduction to the ideas behind the Amsterdam Philosophy movement
Examines the opinions of the movement on assorted topics, academic and theological
Contents
Background
The Appeal of the Movement
Summary of Our Critique
Common Sense and Science
Science and Time
The Basic Structure
Law
Scripture and the Word of God
Philosophy and Theology
Science
Education
Church and Society
Evangelism
Apologetics
Conclusions
About John M. Frame
John M. Frame (MDiv, Westminster Theological Seminary, MPhil, Yale University, DD, Belhaven College) is professor of systematic theology and philosophy at Reformed Theological Seminary in Orlando, Florida. He is an ordained minister of the Presbyterian Church in America. Previously, he taught at Westminster Theological Seminary in Philadelphia (1968–80) and Westminster Theological Seminary in California (1980–2000).
Reviews
What other people are saying about The Amsterdam Philosophy: A Preliminary Critique.