Perspectives on the Word of God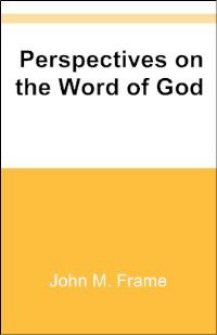 Overview
This succinct volume consists of three lectures examining the nature, media, and application of God's word. Frame develops fresh applications of ideas set forth in The Doctrine of the Knowledge of God. In addition, he offers a preview of the central theses to be discussed in two later volumes in his Theology of Lordship series—The Doctrine of the Word of God and The Doctrine of the Christian Life. Those looking for a concise presentation of Frame's "perspectival" approach will find it here.
In the Logos edition of this volume, you get easy access to Scripture texts and to a wealth of other resources in your digital library. Hovering over Scripture references links you instantly to the verse you're looking for, and with passage guides, word studies, and a wealth of other tools from Logos, you can delve into God's Word like never before!
Key Features
Contains three lectures on the doctrine of God
Looks at the interaction between the word of God and ethics
Discusses the nature, media, and application of God's word
Contents
Lecture 1: The Nature of the Word of God
Lecture 2: The Media of the Word of God
Lecture 3: The Word of God and Christian Ethics
Product Details
Title: Perspectives on the Word of God
Author: John M. Frame
Publisher: P & R
Publication Date: 1990
Pages: 76
Christian Group: Reformed
Resource Type: Topical
Topic: Doctrine of God
About John M. Frame
John M. Frame (MDiv, Westminster Theological Seminary, MPhil, Yale University, DD, Belhaven College) is professor of systematic theology and philosophy at Reformed Theological Seminary in Orlando, Florida. He is an ordained minister of the Presbyterian Church in America. Previously, he taught at Westminster Theological Seminary in Philadelphia (1968–80) and Westminster Theological Seminary in California (1980–2000).
Reviews
What other people are saying about Perspectives on the Word of God.