Classic Sermon Library Builder (100 vols.)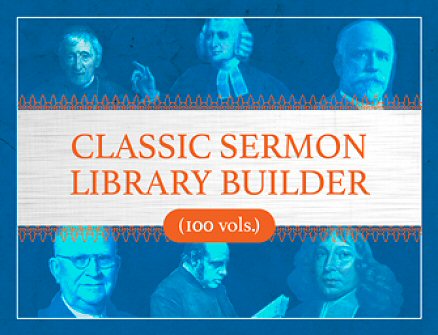 Overview
Craft meaningful sermons with insights from the best preachers in history. This extensive collection assembles classic sermons from the fourth to the twentieth century, on practical topics, doctrinal issues, and on verses throughout the Bible. Dozens of notable preachers are represented, from John Wycliffe to John Henry Newman, and George Whitefield to D.L. Moody. Delve into the messages they shared with the congregations they loved and discover priceless examples of preaching as an art.
In Logos, these sermons are enhanced by amazing functionality. The Logos 5 Sermon Starter includes features which retrieve sermons from your library by simply searching for the relevant Bible verses. With a few clicks, discover what important ministers have preached on the same passage you are preaching on. With Logos Bible Software, the most efficient and comprehensive research tools help you write timeless sermons in less time.
Key Features
Elevates personal sermon writing to an art form
Provides unique and useful tools for writing compelling sermons
Utilizes the expertise of respected and notable preachers throughout history
Benefits congregations by providing hundreds of examples of exemplary sermons
Product Details
Reviews
What other people are saying about Classic Sermon Library Builder (100 vols.).