Explorations in Theology, vol. 2: Spouse of the Word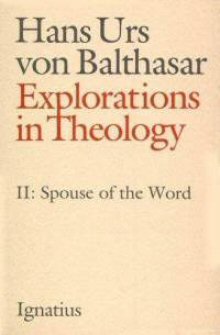 Overview
In this volume, Balthasar looks at the Church, "the Bride of Christ," as both unspotted and unfaithful—the Church of saints and of sinners. He goes through Scripture and tradition looking at both sides of the Church and what they mean.
Having this volume in Logos gives you unprecedented ways to study the theology of Balthasar. With just a click, you can perform powerful word studies, explore cross-references and footnotes, open theological dictionaries, encyclopedias, lectionaries, the Church Fathers, and much more.
Key Features
Unveils a thorough synopsis of Balthasar's theological thought
Links every cross-reference to the Church Fathers and to other works of Balthasar
Presents practical and invigorating theological ideas
Contents
Part One

The Contemporary Experience of the Church
Fides Christi: An Essay on the Consciousness of Christ
Office in the Church
Who Is the Church?
Casta Meretrix
The Church and Israel

Part Two

Charis and Charisma
The Layman and the Church
Philosophy, Christianity, Monasticism
Priestly Existence
Toward a Theology of the Secular Institute

Part Three

Liturgy and Awe
Seeing, Hearing, and Reading within the Church
Seeing, Believing, Eating
Eucharistic Congress 1960
Product Details
Title: Explorations in Theology, vol. 2: Spouse of the Word
Author: Hans Urs von Balthasar
Translator: A.V. Littledale and Alexander Dru
Series: Explorations in Theology
Publisher: Ignatius Press
Publication Date: 1991
Pages: 490
Christian Group: Catholic
Resource Type: Systematic Theology
Topic: Systematic Theology
About Hans Urs von Balthasar
Hans Urs von Balthasar (1905–1988) was a Swiss theologian, considered to be one of the most important Catholic intellectuals and writers of the twentieth century. He studied in Vienna, Berlin, and Zurich, and completed his doctorate in German literature in 1928. Incredibly prolific and diverse, he wrote over one hundred books and hundreds of articles. Although the Balthasar's studies are diverse and scattered, his theology and philosophies are stirring, practical, and profound. He was drawn towards the spiritual and mystical theology of the Church Fathers, deferring to Scripture and patristic writers to answer modernist and neo-scholastic questions. During his life, he was both a diocesan priest and a Jesuit instructor. He was nominated to be a cardinal of the Catholic Church by Pope John Paul II himself, but Balthasar died two days before his ceremony.
Reviews
What other people are saying about Explorations in Theology, vol. 2: Spouse of the Word.