Synthetic Bible Studies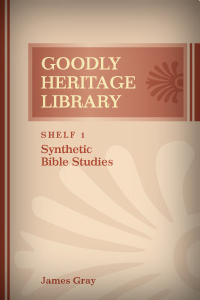 Overview
An outline of every book in the Bible, with suggestions for sermons, speeches, and expositions.
Synthetic Bible Studies originally appeared as weekly lessons in a religious journal, and were so widely blessed to ministers and Bible students generally, that they were gathered together in this more permanent form; the matter still retaining however the personal and familiar style of a teacher addressing a class of other teachers, which had been adopted in the newspaper articles.
Product Details
Title: Synthetic Bible Studies
Author: James M. Gray
Publisher: Pleasant Places Press
Publication Date: 2004
Reviews
What other people are saying about Synthetic Bible Studies.