Works of St. John of Damascus (2 vols.)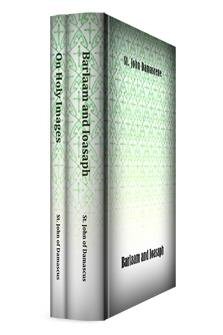 Overview
Saint John of Damascus (also known as John Damascene) is a significant Orthodox Church Father, responsible for classics in the fields of law, philosophy, theology, and even music—his hymns are still used in both Eastern and Western traditions. This collection showcases the diversity of his intellect and the reasons his works remain valuable resources for modern study. It includes his famous defense of the use of icons which was influential during the Second Council of Nicaea, as well as a legend he created to describe the life of Buddha through a Christian lens.
In Logos, these works are enhanced by amazing functionality. Scripture citations link directly to English translations, and important terms link to dictionaries, encyclopedias, and a wealth of other resources in your digital library. With Logos Bible Software, the most efficient and comprehensive research tools are in one place, so you get the most out of your study.
Key Features
Includes two of St. John of Damascus' most significant works
Defends the use of holy images
Provides a look at early Christian monasticism
Product Details
Title: Works of St. John of Damascus
Author: St. John of Damascus
Volumes: 2
Pages: 785
Christian Group: Anglican
Resource Type: Ancient Texts
Topic: Theology
Individual Titles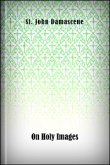 Responding to the edict by the Byzantine Emperor Leo III banning the veneration or exhibition of holy images, St. John Damascene penned a defense of holy images that garnered his reputation as an important thinker and writer. In On Holy Images, Allies provides an English translation from the original Greek of John Damascene's classic text, as well as translating three sermons on the Assumption of Mary.
A translation of the treatise on holy images by the last of the great Greek Fathers, who is at the same time the definite forerunner of the speculative method inaugurated by the scholastics of the Middle Ages, has a special interest and significance for our time.
—The American Ecclesiastical Review
The Damascene's polemic is of great historical as well as dogmatic interest. It deserves attention for its argument, its style, and its effects.
—The Critical Review of Theological and Philosophical Literature
Mary H. Allies translated numerous works from the Church Fathers, including Leaves from St. Augustine, as well as the biography of her father, Thomas Allies, the Story of a Mind.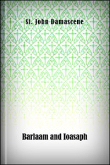 The Greek legend of Barlaam and Ioasaph, traditionally attributed to St. John Damascene, serves as a retelling of the life of Buddha through a Christian lens. Although the story's original plot may have been adapted from Christians of the East for their own use, St. Damascene's Barlaam and Ioasaph is clearly a celebration of Christian monasticism. The Greek text and the English translation are both provided in this volume, along with an in-depth introduction in which the authors discuss its authorship and more.
Despite its considerable interest, religious and in places fairly human, Barlaam and Ioasaph has never before been completely translated into English from the original, and the present undertaking is a work of considerable value, carefully executed.
—The Nation
George Ratcliffe Woodward (1848–1934) was born in Hamilton Square, Birkenhead and educated at Gonville and Casius College, Cambridge. Woodward is most known for his writing and translating of hymns, and his works include Carols for Easter and Ascension-tide and A Cambridge Carol Book: Being Fifty-two Songs for Christmas, Easter, and Other Seasons.
Harold Mattingly (1884–1964) was Craven Scholar and Fellow of Gonville and Casius College, Cambridge. He joined the British Museum in 1910 in the Department of Printed Books before moving to the Department of Coins and Medals where he was responsible for a total revision of the chronology and study of Roman coinage. His other works include Earliest Times to the Fall of the Roman, The Imperial Civil Service of Rome, and The Man in the Roman Street.
About Saint John of Damascus
Saint John of Damascus (c. 676 – 4 December 749) was a Syrian Christian monk and priest. Born and raised in Damascus, he died at his monastery, Mar Saba, near Jerusalem. A polymath whose fields of interest and contribution included law, theology, philosophy, and music, before being ordained, he served as a chief administrator to the Muslim caliph of Damascus, wrote works expounding the Christian faith, and composed hymns which are still in everyday use in Eastern Christian monasteries throughout the world. The Catholic Church regards him as a Doctor of the Church, often referred to as the Doctor of the Assumption due to his writings on the Assumption of Mary.
Reviews
What other people are saying about Works of St. John of Damascus (2 vols.).