Predestined to Believe: Common Objections to the Reformed Faith Answered, 2nd ed.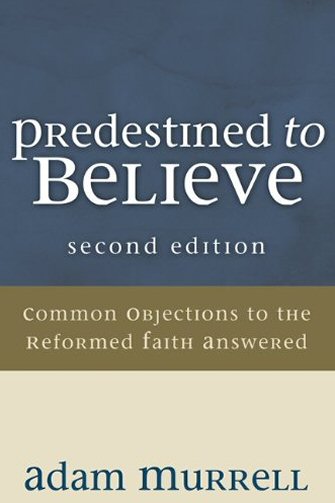 Resource Publications
, 2009
Overview
Adam Murrell examines common arguments against Calvinism, demonstrating that they are often the result of misunderstandings, faulty reasoning, or poor scriptural exegesis. Murrell starts from the premise that we, as a fallen people, need God to save us from our sins with his sovereignty and grace. He asserts that God's sovereignty is not a barrier to Calvinism but a powerful support for it.
With Logos Bible Software, this volume is enhanced with cutting-edge research tools. Scripture citations appear on mouseover in your preferred English translation. Important terms link to dictionaries, encyclopedias, and a wealth of other resources in your digital library. Powerful topical searches help you find exactly what you're looking for. Tablet and mobile apps let you take the discussion with you. With Logos Bible Software, the most efficient and comprehensive research tools are in one place, so you get the most out of your study.
Key Features
Offers insight into Reformed theology
Examines the topic of predestination
Explains the differences between Arminianism and Calvinism
Contents
Note to the Reader
The Doctrines of Grace Defined
The God-Breathed Scriptures
The Importance of God's Sovereignty
Isn't Calvinism a Man-Made System?
Why Should We Study a Topic that Divides Christians?
John Calvin Murdered His Theological Enemies
The Doctrines of Grace Are Not Historical
Predestination Violates Man's Free Will
The Bible Does Not Teach the Doctrine of Man's Total Depravity
How Can God Find Fault with the Unsaved if He Preordained Everything?
Predestination Discourages Good Morality
Predestination Produces a Spirit of Elitism
God's Election Is Based on His Foreknowledge of Those Who Would Choose Him
Calvinism Implies that God Created Evil
Is Predestination the Same as Fatalism?
Predestination Precludes Any Incentive for Evangelism
Why Should Anyone Bother with Prayer?
Predestination Precludes a Sincere Offer of the Gospel
God Shows Favoritism in Election
Election Makes God Unfair
God Loves Everyone Equally without Discrimination
Christians Can Lose Their Salvation
The Bible Clearly Teaches that Jesus Died for Everybody
Calvinism Denies God's Freedom
Is God's Sadness in Genesis Six Proof that He Did Not Ordain Everything?
Predestination Contradicts Universalistic Passages in the Bible
Conclusion
Praise for the Print Edition
At a time when belief of Calvinism is constantly challenged, Adam Murrell responds to common objections to the Reformed faith. There are many Christians struggling to know the difference between Arminianism and Calvinism, and this theologically sound book reveals the truth and gives answers that are biblically centered. I would highly recommend this book as it is much needed for every Christian.
—Nick Bibile, founder, Agape Chapel Ministries
Predestined to Believe shows a good understanding of the differences between Calvinism and Arminianism and presents a concise biblical defense of the former. I do hope that it gets a wide circulation, and I believe that it will prove to be a blessing to the church.
—John Frame, professor of systematic theology and philosophy, Reformed Theological Seminary
We were fortunate to have Adam Murrell attend our church while he was assigned to our local naval station. We discovered that he savors Reformed theology. He wants you to savor it too! This little book is a useful contribution toward achieving that goal.
—Randy Kimbrough, pastor, Moss Point Presbyterian Church, Moss Point, Mississippi
Product Details
Title: Predestined to Believe: Common Objections to the Reformed Faith Answered
Author: Adam Murrell
Edition: 2nd
Publisher: Wipf & Stock
Publication Date: 2009
Pages: 136
Christian Group: Reformed
Resource Type: Topical
Topic: Calvinism
About Adam Murrell
Adam Murrell is a graduate of Columbia College and Liberty Baptist Theological Seminary. He is the president of a non-profit organization, a Bible teacher, and a United States naval officer. He has authored several other books, including Concise Fundamentalism, Essential Church History, and The Essence of the Christian Faith.
Reviews
What other people are saying about Predestined to Believe: Common Objections to the Reformed Faith Answered, 2nd ed..