Rooted in Good Soil: Cultivating and Sustaining Authentic Discipleship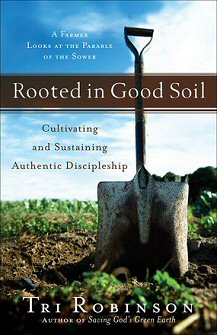 Overview
Sustain your faith in a chaotic world. Just like a fruitful tree, authentic faith is the result of careful tending, the passage of time, and good growing conditions. According to Jesus's parable of the sower, true belief takes root in good soil. But how is this truth translated into changed lives? Pastor and farmer Tri Robinson invites you to cultivate a deep and lasting faith through this insightful exploration of Jesus's parable. In a culture that seems enamored with quick fixes and superficial amusements, Rooted in Good Soil will show you a more intentional and fulfilling way to live.
In the Logos edition, this volume is enhanced by amazing functionality. Scripture citations link directly to English translations, and important terms link to dictionaries, encyclopedias, and a wealth of other resources in your digital library. Perform powerful searches to find exactly what you're looking for. Take the discussion with you using tablet and mobile apps. With Logos Bible Software, the most efficient and comprehensive research tools are in one place, so you get the most out of your study.
Key Features
Utilizes rich metaphors to bring the gospel to life
Discusses "followership" of Jesus Christ in a vulnerable and poingant way
Combines horticultural knowledge and leadership experience to to revitalize Christian life
Contents
Finding the Secret of the Harvest: The Condition of the Soil
Cultivated and Broken: Repentance
The Compost of Our Lives: Growing through the Pain
The Planted Seed: God's Hidden Work
Soil, Sun, and Rain: A Picture of the Trinity
Photosynthesis: Transformed to Serve
Symbiotic Relationships: Becoming Part of an Authentic Community
The Thrill of the Harvest: Bearing Fruit
Praise for the Print Edition
Tri Robinson helps me understand how God's land, our life development, and the Lord's ministry can be integrated. Like Jesus, he tells us stories that change our lives. I loved reading this book!
—Joel C. Hunter, senior pastor, Northland, A Church Distributed, Longwood, Florida
Tri Robinson's vivid prose and rich metaphors make discipleship come alive. In story after story he reveals the power and beauty of God's love and desire to personally engage us. I want to become the 'spiritual horticulturalist' that Rooted in Good Soil describes. Tri's vulnerability and experiences jealously inspire me to more deeply surrender to Jesus. This is the real deal.
—Dave Workman, author, The Outward-Focused Life
I have liked and admired Tri Robinson for 20 years. In Rooted in Good Soil, he brings together the keen, curious, and sharp mind of a teacher; the wise experience of a farmer; the warm heart of a disciple; and the expert guidance of a veteran pastor. If you're interested in how followership of Jesus really works, read this simple, enjoyable book.
—Todd Hunter, pastor, Holy Trinity Church, Costa Mesa, CA
Rooted in Good Soil is a wonderfully warm and insightful book that gleans lessons on the Christian life from the rich soil of farming experiences in the Idaho Cascades. Tri Robinson is perfectly suited to the subject. He has an undergraduate degree in biology and has farmed the land for many years. He also has planted and pastored a thriving church, excelled in leadership, and discipled many new believers. This combination of horticultural knowledge and leadership experience has resulted in a delightful book for both the beginning traveler on the Christian way and the pilgrim who is a long way down the road.
—Berten A. Waggoner, national director, Vineyard USA
Don't scoff at the idea of a pastor who is also a farmer writing about Jesus' parable of the sower. Robinson is the real deal—a farmer who lived off the land for two decades, raising children with his wife and without electricity. . . . The book resonates with the injunction to live simply so others can simply live and has a profound simplicity of message and tone. . . . In a gently admonitory tone the author offers a radical call to all believers to join in the harvest of a healthy crop of followers in the fields of the Lord.
—Publishers Weekly
About Tri Robinson
Tri Robinson is the founding pastor of the Vineyard Boise Church and author of Saving God's Green Earth: Rediscovering the Church's Responsibility to Environmental Stewardship and Small Footprint, Big Handprint: How to Live Simply and Love Extravagantly.
Reviews
What other people are saying about Rooted in Good Soil: Cultivating and Sustaining Authentic Discipleship.